Raiders Head Coach Jon Gruden Resigns After Leaked Offensive Emails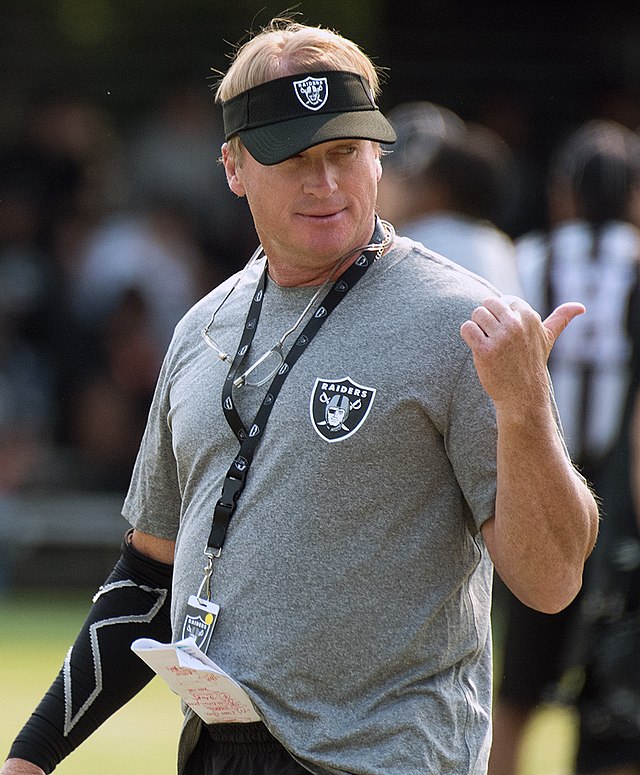 On October 11, 2021, Jon Gruden stepped down as head coach of the Las Vegas Raiders due to a leak of racist, homophobic, and sexist emails he sent over the years. These emails were sent to former president of the Washington Football Team (WFT), Bruce Allen. 
Back in July of 2018, an investigation of workplace misconduct in the WFT was orchestrated after multiple reports of bullying, sexual harassment, and intimidation by numerous female employees being harassed by managers and executives, resulting in the National Football League (NFL) obtaining over 650,000 emails, including the violations of Jon Gruden and Daniel Snyder (owner of WFT).
In an email to Allen about National Football League Players Association (NFLPA) executive director DeMaurice Smith, Gruden states that Smith has "lips the size of a Michelin tire." Gruden told ESPN that it is not a racist term, but he uses the term "rubber lips" to refer to a guy who's lying: "I never had a racial thought when I used it. I'm embarrassed by what's out there. I certainly never meant for it to sound that bad." 
"This is not the first racist comment that I've heard and it probably will not be the last," said Smith to the Wall Street Journal, "Racism like this comes from the fact that I'm at the same table as they are and they don't think someone who looks like me belongs."
Following Gruden's exposure, the NFL released a statement that read, "The email from Jon Gruden denigrating DeMaurice Smith is appalling, abhorrent, and wholly contrary to the NFL's values. We condemn the statement and regret any harm that its publication may inflict on Mr. Smith or anyone else."
On top of this email, Gruden also sent emails criticizing the involvement of women as NFL refs containing obscene language in response to openly gay player Michael Sam's (former Los Angeles Rams' draft pick) entry to the NFL, as well as frustration towards the league's tolerance of Eric Reid (former San Francisco 49ers' safety) protesting racism during the national anthem. 
In the emails regarding Michael Sam, Gruden called Roger Goodell (NFL Commissioner) a "f-ggot" and "clueless anti-football p-ssy", claiming Goodell pressured former Rams coach Jeff Fisher to draft "queers". The severity of these messages didn't stop at name-calling though, because Gruden also sent Allen pictures of topless WFT cheerleaders. 
Gruden eventually put out a statement on Twitter announcing his departure from the silver and black: "I have resigned as Head Coach of the Las Vegas Raiders. I love the Raiders and do not want to be a distraction. Thank you to all the players, coaches, staff, and fans of the Raider Nation. I'm sorry, I never meant to hurt anyone." 
During a media conference on October 13, Raiders quarterback Derek Carr said, "It's hard because I love the man so much. I have family members that have done things, I've done things … I'm glad that I'm still loved, you know. And I think more than anything coach needs people to help him, to love him… but at the same time what's right is right and what's wrong is wrong." Despite rooting from warm intent, people on Twitter did not appreciate Carr's words and thought he shouldn't have said anything, saying things like, "Derek Carr needs to shut up and throw the football."
In a personal anecdote, avid Raiders fan Roy Zehna adds, "it sucks that Gruden pretty much had to be the scapegoat in this situation but there was no way the NFL would allow him to keep his job after what he did." Like many, Zehna is disappointed that Gruden was fired because he was a great coach, but what he did is not acceptable.