Concha (Mexican sweet bread) Recipe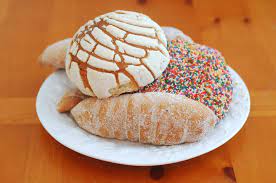 Concha Dough:
½ Cup of whole milk
2 ½ teaspoon active dry yeast
⅓ cup granulated sugar
3 ¾ cups all-purpose flour
¾ teaspoon salt
½ unsalted butter (melted)
3 regular eggs (beaten)
1 teaspoon oil
Pan dulce topping:
1 cup all-purpose flour
⅔ cup powdered sugar
½ unsalted butter (room temperature)
1 tablespoon vanilla extract
1 tablespoon unsweetened cocoa powder
Preparing the dough:
In a bowl heat your ½ of whole milk in a microwave for 15 seconds or on the stove until the milk is warm to the touch. In the milk stir in your 2 ½ teaspoons of active dry yeast and follow it with 1 tablespoon of your ⅓ cup of sugar, Cover loosely with plastic wrap and leave it out for five minutes or until it becomes extremely foamy. Throw away the mixture and start over with a fresh package of yeast if it doesn't foam.
Mix the all-purpose flour, remaining sugar, and salt in a stand mixer bowl/or conventional large bowl
Melted butter, eggs, and yeast mixture should be added to the machine with the dough hook attached. The dough should be smooth and elastic after 6 to 8 minutes of mixing on medium-low speed (or by hand). The dough won't be fully sticky, but it will be somewhat tacky. If it's still sticky, work in 1 tablespoon at a time of extra flour until the dough is smooth and elastic.
Transfer the dough, forming it into a ball, to a large basin that has been greased. Let it rise for two hours until it has doubled in size, and covered with a kitchen towel.
Set aside 2 sizable baking sheets that have been lined with parchment paper.
The dough should be divided into 12 equal pieces and formed into balls. On each of the prepared baking sheets, arrange six balls. Loosely cover with clean kitchen towels. In a warm environment, let the balls rise again for 1.5 hours, or until they have doubled in size.
Preparing the topping:
Using a handheld mixer, combine the flour, powdered sugar, and butter in a big bowl and beat until well combined. Place each half of the mixture in a small bowl after dividing it into two equal halves.
In order to make the white vanilla topping, add vanilla essence to half of the dough and blend with a mixer. Using your hands, gather the dough, split it into 6 equal pieces, and roll each piece into a ball.
Using a tortilla press, lightly flatten each ball between two pieces of plastic wrap. The topping could alternatively be shaped into circles with a rolling pin.
The rolled-out topping should be carefully removed from the plastic wrap and placed on top of the concha dough that has risen. To firmly anchor the topping to the dough, lightly press it down.
Set the oven's temperature to 350°F. While the oven is preheating, carve grooves into the topping with a paring knife so it resembles a clamshell, a crisscross pattern, or whichever pattern you want.
Bake the dough for 20 to 25 minutes, or until it turns a pale golden color. Before serving, let the conchas cool for 10 minutes.