November Artist of the Month: Reginald Apura
Kaitlyn Lee
January 8, 2016
"Among all my activities, orchestra is my passion." Reginald Apura, now a senior, has enjoyed orchestra throughout his years at Wilcox. Apura not only plays the viola, but also the violin, cello and piano, and is leader of the Wilcox orchestra's viola section. As section leader, he plays the hardest pieces and clarifies difficult parts of the music to the rest of the violas. Section leaders play a significant role in the development of the whole orchestra because they guide the rest of the players to better musicianship.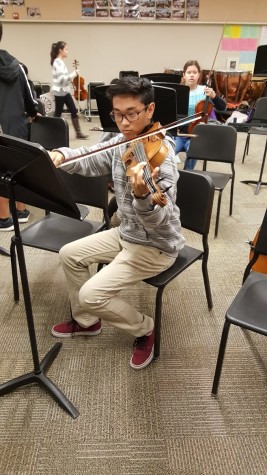 "He's the voice of the violas," says senior Nicole Martin, a fellow orchestra member who sees Apura's skills daily. Apura diligently works in order to help others and excel in his own skills.
Apura started his violin lessons in the third grade. Although he continues to play the violin, in his freshman year, Apura began to play the viola. "I wanted to help out the viola section, since there weren't many of them and they probably needed a lot more support," Apura explains. Apura made the switch with the encouragement of his private tutor, who has developed him into magnificent player, willing to help his peers and better his skills to the best of his abilities. The switch from violin to viola allowed him to shine and display his true variety of skills in different instruments, showing his talent in the study of music itself. Even though his skills are impressive now, it was not always this way.
Switching from violin to viola was quite difficult for Apura, chiefly because violin and viola are in two different clefs, or, in other words, the notes are not written in the same order. Getting used to reading music differently was strenuous, causing Apura to falter in his freshman year. But Apura persevered and continued to progress as a viola player, despite his challenging start.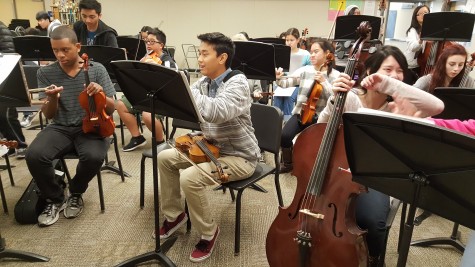 Apura truly loves orchestra and its environment because music is such a huge part of his life. "Orchestra helps me express myself in so many different ways, unlike the other subjects I do at school," Apura explains. Orchestra is Apura's escape from the tedious and stressful world of school work and grades. He expresses himself through music and is able to relax while playing his instruments.
Apura's passion for music reveals his love for the arts and shows different sides of his personality. But even though music is a huge part of his life, he does not slack in other aspects. He has a 4.1 GPA and works extremely hard in school. He continues to flourish in what he puts his mind to. Apura contributes greatly to Wilcox's orchestra by helping others who need his guidance in their own improvement, and always trying his best in what he does.