Humans of Wilcox: Alyssa Barkin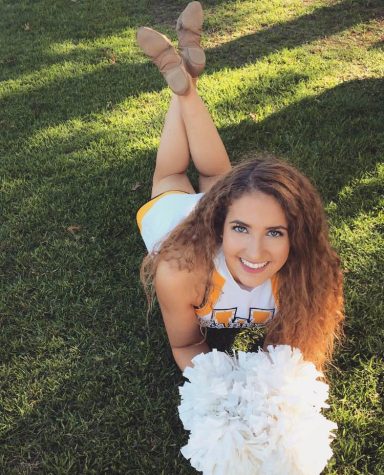 "Everything happens for a reason." These are the words that Alyssa Barkin, a senior here at Wilcox high school, lives by. So, when Barkin tried out and got into the Wilcox dance team, she knew that she had a purpose, which was to spread the school spirit. "Although it might be cheesy, it's my second home," Barkin admits as she refers to the dance team, which she claims is her family.
Dance team has been a huge part of Barkin's high school life, and she has been a part of it since freshmen year.
Barkin's involvement in dance first began at the young age of two. Even though the cheer team was also an option, Barkin decided to dance. "It helps me express myself" she confesses. The competitive dancer explains that she has done jazz, lyrical, hip-hop, tap and just about any other type of dancing you can think of. The biggest struggle Barkin had with the dance team occurred back when she was a freshmen. When Barkin first tried out and joined the team, she did not know anyone. Being one of the only two freshmen on the team, she had to make new friends. "Just try it, no experience needed," is Barkin's advice for anyone who wants to try out for the dance team.
One of Barkin's biggest accomplishments concerning dance was when she was invited to dance in a parade in London. Barkin explains that she, "went to a dance camp in July with her team. Mostly everyone "auditioned" for All American. I was selected to get the "All American" which is the opportunity to go to London and dance in the New Year's Day parade, so I will be going to that in December." She explains that, "I actually got All American my sophomore year too, but I didn't get to go because my grandma was sick, and I really regret not going." So this year she told herself, "I had to go this year because it was my last chance."
Barkin describes herself as "spirited, outgoing, and a leader," which makes her perfect for the dance team. Coach Laura Akin is the dance team's mentor. She has known Barkin since she was a freshmen. Coach Akin describes Barkin as "dedicated, loyal, and selfless." Coach Akin claims that "Alyssa is the type of person who will never give up. She sacrifices her own well-being to work tirelessly on class activities, her dance studio and dance team." Coach Akin proceeds to say that "her heart is always in the right place as she cares deeply about everything she does and all those in her life. She is always thinking about something whether it is choreography, homework, or the people, and there are many, that she cares about. She can be tough because she holds people to the high standards she has for herself." The coach says that "her beauty goes far beyond her stunning face to her soul. "She is humble and it is difficult for her to accept a compliment without becoming embarrassed." Coach Akin describes Barkin as "serious, sincere, a good sport and fun to be around." She says that "Alyssa is the same principled person I met when she was a freshman. All her attributes have just intensified. She is thinking more about her future and her treasured memories of Wilcox."
Barkin's passion for dance is fierce. She knows that she wants to dance even after she graduates this year. Barkin hopes to join the dance team in colleges like Texas Christian University, University of Alabama and Baylor University, where they are big on football. Barkin admits that she could not imagine sitting in the stands at a football game. She is always been cheering from the field.
Since the start of her first year at Wilcox, Barkin has joined a number of clubs and has participated in multiple events. Barkin has been an officer of the MESA (Middle Eastern Students Association) club and she is currently an officer for the ATAC (Active Teens Against Cancer) club. She is also a part of CSF (California Scholarship Foundation) and Interact club. Even though she is a hard working individual, she enjoys relaxing on the weekends. Barkin confesses that she enjoys getting her "daily dose of Netflix." She also enjoys spending time with her dog, Molly.
Alyssa Barkin is an inspiration to all who know her. She is a friend to all and she loves spreading her positivity. Over the years Barkin's peers and teachers have watched her grow into a better version of her freshmen self. The sincere and outgoing dancer has made huge contributions to Wilcox over the years.