Making Sports Open to All
Wilcox junior Chirag Dollin loves to run. But Dollin has autism, and his parents thought that his tendency to get distracted might prevent him from ever being on a cross country team. That is, until now. Thanks to accommodations set up by the Department of Education and the U.S. Office for Civil Rights, Dollin, and others like him, have the opportunity to partici-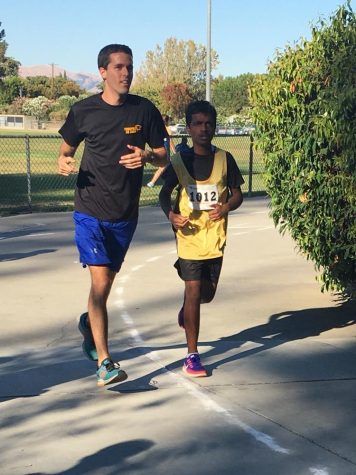 pate in athletics, as well as other extra-curriculars, offered at their high schools. Together with these accommodations, Dollin's hard work, and the support of his family, coaches, and teammates, Dollin now has the opportunity to run alongside his fellow Wilcox Chargers as a part of this years cross country team.
Dollin's coach, Becki Kriege, met with him and his family at the outset of last season to talk about options that might work in order for Dollin to be on the team.  Originally, Dollin's parents suggested that his father would run alongside him during races to keep him on course.  That idea went out the window when Dollin quickly outpaced his father, leaving him "in the dust." Dollin's family, as well as Coach Kriege, put their heads together again and came up with a new plan. Coach Kriege's son, Matt Kriege, a friend of the team who had run cross country for Prospect High School a couple years back, would run new training courses and participate in races alongside Dollin. Kriege, who is a certified nursing assistant, developed an instant, easy connection with Dollin. With Kriege, his coaches, and his family by his side, Dollin can navigate through any course he likes.
These kinds of accommodations are not uncommon. In fact, they are required by the U.S. Department of Education's Office for Civil Rights. According to the National Federation of State High School Associations (NFHS), school districts are required to make reasonable accommodations for athletes with disabilities, so long as they do not fundamentally alter the game or cause a safety problem for the athletes. However, there are no set rules for how accommodations should be granted, so these accommodations made may differ, depending on both the state and the person.
In 2013, the Department of Education issued a "Dear Colleague" letter, clarifying existing disability law regarding school districts. According to a report by the Government Accountability Office (GAO), the letter was issued because of growing concern that students with disabilities participate in athletics at consistently lower rates than students without disabilities. The letter makes clear the obligation of the school district to provide "equal opportunity" to all students participating in athletics, without excluding students with disabilities on the basis of "generalizations, assumptions, prejudices, or stereotypes about disability generally, or specific disabilities in particular."
With this letter, all students, regardless of  their disabilities, must be provided with any arrangements  they need to participate in all school athletics, and in a way that is fair for them and the athletes around them. Because of these accommodations, many students are now able to participate in extracurricular activities that contribute to their overall education.
It is because of laws like these that Dollin's family immigrated to America from India. These laws laid out in the "Dear Colleague" letter make it possible for Dollin, and kids with disabilities like his, to not only have access to a fair and equal education, but also to extracurricular and athletic programs such as cross country. With hard work, determination, and dedication, Dollin, his family, and the cross-country team and coaches have joined efforts to develop accommodations that have made Dollin able to participate as a full team member of the Wilcox cross country team.