Recipe of the Month: Chai Pumpkin Pound Cake
Harmon Kay
October 16, 2017
Ingredients:
Cake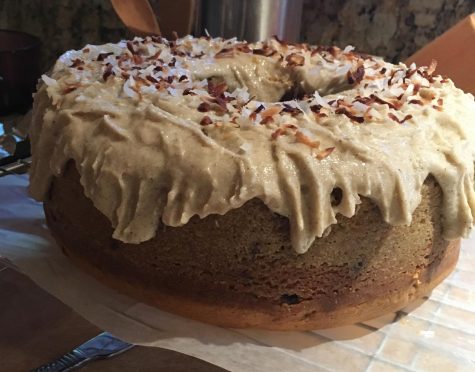 2 sticks of unsalted, softened butter
2 cups sugar
4 eggs
1 tablespoon vanilla
15 ounce can pure pumpkin
3 cups all-purpose flour
2 teaspoon baking powder
½ teaspoon baking soda
½ cup of chocolate chips
1 teaspoon orange zest
2 tablespoons chai masala
½ cinnamon
Glaze
1 stick of unsalted butter
1 teaspoon of vanilla
1 tablespoon vanilla
1 tablespoon milk
1 cup sugar
1 teaspoon chai masala
Masala
1 tablespoon cinnamon
2 teaspoons ground ginger
2 teaspoons ground cardamom
1 teaspoon ground nutmeg
1 teaspoon ground clove
½ teaspoon ground coriander
Instructions:
Preheat oven to 325 degrees Fahrenheit. Grease and flour a bundt pan, set aside for further use.

In an electric mixing bowl with a paddle attachment, mix together the 2 sticks of butter and sugar until light and fluffy. Add eggs one at a time, until well-incorporated. Add vanilla and the pure pumpkin and mix together until nicely combined.

In a large mixing bowl, whisk together the flour, baking soda, and baking powder. Set aside for further use.

If you don't have Chai (tea) Masala, mix together all the ingredients for the chai spice mix. Keep 1 teaspoon of chai for the glaze and pour 2 tablespoons into the butter mixture.

Slowly add the flour mixture to the butter mixture, beating at low speed until well mixed. Pour into the prepared bundt pan with a spoon.

Bake for about 1 hour or until a knife comes out clean.

Cool in bundt pan on a wire rack for about 15 min, then cool outside of bundt pan on wire rack for about 2 hours.

Once cooled, create glaze. In a medium, microwaveable mixing bowl, melt butter, then mix in vanilla and milk. Slowly pour sugar and chai spice into the mix, whisk until nice and smooth. If too thick pour some milk, if too thin pour some sugar.