Humans of Wilcox: Emily Janusz
When you think about why you may be drawn to certain people, some people say that they are magnetized by mystery. When it comes to Emily Janusz, that is simply not true. People gravitate towards her, though she is hardly an enigma. She is an open book. As a sophomore in high school, she has managed to accomplish impressive achievements and exceed all expectations. Without further ado, let me drop Ja-News on Emily Janusz.
According to Wilcox's own theater teacher, Ms. Robson, "Emily is one of the hardest working and most versatile students in theater productions." Ms. Robson reiterated that "She is co-running not only choreography, but also assisting with set dressing, publicity, acting and lights." Emily spent hours managing the light plots for the fall production of Almost, Maine, and she contributed to the success of the show. Ms. Robson praised Emily, saying that "she is always positive, energetic, motivated and dedicated with everything she pursues. She is one of the students who steps up to the challenge and serves as an example and role model for others in the class."
"She goes for what she wants," Raphael de Mattos, a friend of Emily, exclaims. She is remarkably passionate about the Chargerettes, and it shows in her routines. Her sister describes her relentless commitment to learning the splits. "When Emily joined Chargerettes, she didn't have much experience, but she was motivated to be the best she could be. She set a goal to have her splits down by the time she came back to school her sophomore year. So, over summer, almost every day she would stretch and practice her splits," Monica recounts. "I remember when we were vacationing in Europe during summer break, and we would spend hours exploring cities or visiting new places, Emily would always come back to the place we were staying and work on her splits even if she was exhausted like the rest of us." The Chargerettes performances are around five minutes long, but the amount of time, practice, and discipline that goes into creating, improving, perfecting, then performing a routine often go unnoticed. Sometimes, Emily jokingly states, "I have bruises from slapping my legs so hard." Her ability to smile through the hours of pain just to share something she loves with an audience shows how resilient she is. To Emily, her dedication is just another part of being herself.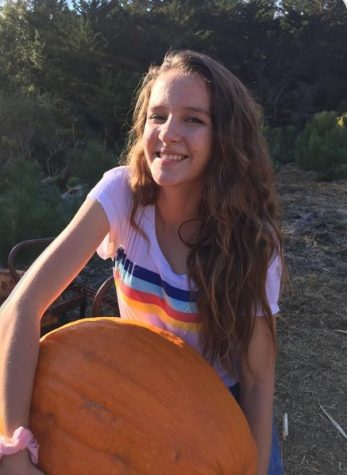 "She's the kind of person who wouldn't want you to walk alone," Angelica Anguiano, a close friend answers when asked about Emily's character. "Emily is the most genuine person I have ever met." What Angelica "will always remember is that you can have a bad day, but Emily will do whatever she can to make sure you have a good day. She is always so happy and is always there to cheer the team up. Emily is always willing to help you whether in practice or out of practice, which made her a leader." Saanika Gad says that she feeds the pigeons, and that she's very patient. She never hesitates to help people with homework. For Emily, it is not enough that she does her best. She wants everyone else to succeed with her. The generosity she displays prevails, unwaveringly and unconditionally. She projects confidence but remains modest. She offers encouragement and shares her joy openly without an ounce of insincerity. She demonstrates humility in a way that cannot be learned, and in turn, receives respect that can only be earned.
Monica Janusz, her sister, proudly shares that "Emily has one of the most caring hearts [she knows]," she raves. "She is very outgoing and always tries to make people around her smile." Her benevolence is not only known to those around her, but is often recognized by everyone she encounters. Most of all, Emily is never afraid to be herself.