Tackling Issues at the Golden Globes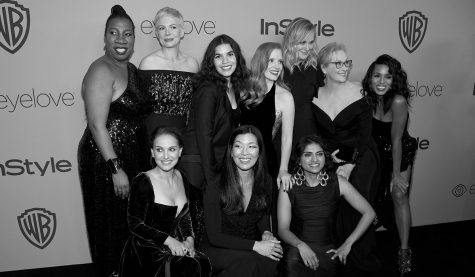 While the Golden Globes are usually a time to celebrate the great movies and TV shows of the year and critique the fashion of Hollywood's biggest stars, the 2018 Golden Globes were far from a typical year. The allegations against many of Hollywood's most successful actors, producers, and directors influenced every facet of the event. Many actresses wore black in solidarity with the victims of sexual assault. They also made speeches condemning the power imbalance that let men like Harvey Weinstein get away with his alleged crimes, including rape, for so long.
The women of the Globes pulled out all the stops to make sure that women's voices in all fields of work could no longer be ignored when it came to the topic of sexual harassment and assault. Along with their black outfits, women wore pins with the words "Time's Up." The pins were a reference to the organization started by a group of high-profile Hollywood women, including Reese Witherspoon and Jessica Chastain, in support of women coming forward with their stories of sexual assault.
Though the "Time's Up" movement was by far the most notable, this year's Globes was also a historic night for people of color. This is Us star, Sterling K. Brown, made history as the first black man to win a Golden Globe for Best Lead Actor in a TV Drama. According to NBC News, Brown used his speech to call for more opportunities for people of color, saying, "I look forward to seeing somebody else stand up here holding this trophy, not seventy-five years from now." In an equally historic win, Oprah became the first black woman to win the Cecil B. DeMille award for lifetime achievement. According to NBC, she acknowledged the significance of the award, saying, "it is not lost on me that at this moment, there are some little girls watching as I become the first black woman to be given this same award."
However historic this year's Globes was, one cannot ignore the controversies surrounding the night, one of which was the silence of the majority of male attendees. While many of the female Globes attendees devoted their speeches to the Time's Up movement, none of the male winners directly referenced the cause in their speeches. Gary Oldman made a vague reference to some unspecified kind of "change." But it did not mention what that change might be.
Some male attendees have also been accused of hypocrisy for wearing Times Up pins despite being perpetuators themselves. Included in this latter group is James Franco, who, in the days immediately following the Globes, was the subject of an expose in the Los Angeles Times, accused by multiple women of sexual harassment and assault. Aziz Ansari, who won an award for his work on Master of None, also earned some criticism when an article, published just days after the Globes, accused him of sexual assault as well.
None could have guessed, however, that so many people who attended this awards show would bring up this issue that has plauged Hollywood for years.