Club Spotlight: Speech and Debate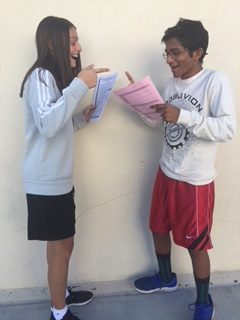 Matsuka Gaja
December 14, 2018
If you would like to join a community filled with fierce competitors and powerful speakers, look towards Speech and Debate. Public speaking is not only challenging but rewarding as well; it is an educational endeavor that is typically available in many middle schools, high schools, and colleges. According to the Golden State Academy, Speech and Debate is the largest academic competitive activity in the United States, exceeding the National Spelling Bee. Similar to athletic sports, it is arduous and empowering, requiring daily practice, dedication, and hard work.
Created in 1925, The National Speech and Debate Association, the largest interscholastic Speech and Debate organization in the world, has more than 3,000 high schools, 600 middle schools, and 5,200 coaches participating across the United States. Members of this institution recieve innumerable benefits including tournament opportunities, professional speaking skills, scholarship opportunities, and exclusive partnerships. According to Mellessa Denny, who has been coaching Speech and Debate at Amarillo High School in Texas for nineteen years, students who participate in the activity "develop skills in in research, critical thinking, organization, persuasion, and communication." Students also gain "confidence in speaking situations, spontaneity in interviews, improved writing in other courses, and diverse perspectives," that can help students outside of high school. For instance, if students desire to pursue careers entailing collaboration with peers and voicing their opinions, Speech and Debate will effectively prepare them to achieve their goals. Mr. Dobos, the advisor of the club at Wilcox, believes by partaking in the club, students evolve into well-rounded individuals capable of making wise political decisions. Through researching topics and arguments, members intensively learn to structure their fluidity in both speech and writing while strengthening relationships with their peers along the way.
The Speech and Debate Club at Wilcox High School currently has fifteen members, with senior Prishha Thiagarajan acting as their club president. During the meetings hosted weekly, participants investigate to delve into various styles of debate and apply what they have learned in mock debates against other members or against Mr. Dobos. A member of the club, freshman Tavleen Kaur, explains, "the knowledge I am gaining from the Speech and Debate helps me with my confidence levels and develops my speaking style and public speaking confidence in general."
Although many may assume the club is limited to argumentative conversations, debate and expository speech are two distinct branches within the affiliation. According to the Washington Post, Expository Speech bears informative intent, seeking to describe and clarify a specific concept or resolution and how it pertains to society. Students participating in Expository Speech are required to memorize their words and deliver an effective presentation. The primary difference between speech and debate lies in the information retained by the audience. Content is displayed in two different manners, with speech focusing on one side of the story; whereas debate includes both aspects.
Through observation and presentations, students prepare for competitions in which clubs from different schools gather and compete. Last year, the Wilcox Speech and Debate team took part in the 32nd Annual Stanford Invitational. Similar to other events, three categories were offered at the tournament, which included Parliamentary Debate, Expository Speech, and Public Forum Debate. By participating in such tournaments, members of the Speech and Debate Clubs are capable of gaining valuable experience. Thiagarajan describes her first tournament at the Annual Stanford Invitational – "Although I felt very nervous and didn't know much about debate, this experience taught me so much and I noticed myself improving a lot just over the course of two days. It was also just very fun bonding with other students in the club, as well as roasting each other in between rounds, and eating yummy foods." As of now, students are preparing for an upcoming tournament in February.
According to Gayathri Srinivasan, a freshmen club participant, "Every meeting helps strengthen our foundation for public speaking, so our ability to argue a case and think on the fly improve." Speech and Debate has opportunities of competitions, as well as improvement in life skills, such as confidence and communication. With these innumerable benefits, club members are practicing and improving daily, working toward their goal of attending as many tournaments as possible, and encouraging new debaters and speech students.