BEAR-ing the Burden of Stress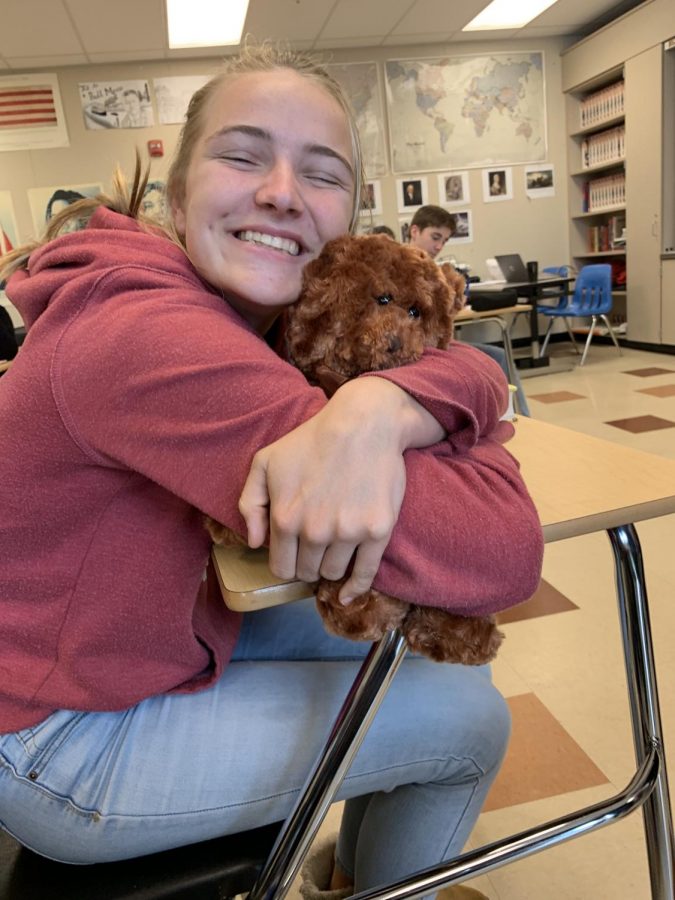 Catalina Rao, W&tW Editor
April 5, 2019
I have often heard the necessity of mental health checkups explained to me like this: every year before we start school, or apply for new jobs, or sign up for sports, students must turn in medical forms assuring the school that they are of good physical condition. We keep our physical bodies fine-tuned and running smoothly, and this is essential to the maintenance of our health. But this only applies to physical well being; what about our minds? We exercise our brains far more often than our limbs, yet there is no annual check up for our mental facilities. Thoughts are constantly flitting through our heads, barraging our brains with unwarranted comparisons, insults, to-do lists, and feelings, yet the requirement for confirming mental stability is often merely a smile and a nod. The Wellness Center at Wilcox seeks to change these requirements for students and develop a productive way for students to cope with the stress they face at school and at home.
Currently, there is a stress management group on campus being run by our wellness coordinator, Ms. Kwan, and Ms. Herman, a school psychologist. According to Ms. Kwan, the group was created at the request of Wilcox's counselors looking for an alternative to one-on-one conversations with students. They often feel these are not enough to truly satisify students' needs, and one-on-one meetings are far too infrequent to properly address the growing epidemic of anxiety among teens.
In a 2018 study conducted by the Pew Research Center, seventy percent of surveyed thirteen to seventeen year olds reported anxiety and depression as a major problem within their communities. This concern prevailed in percentage points over other issues on the survey such as drinking alcohol at forty-five percent, bullying at fifty-five percent, and teen pregnancy at thirty-four percent.
The establishment of stress as the main source of teen anxiety is what prompts action throughout schools everywhere—more specifically, the stress management group at Wilcox. Ms. Kwan explains, "We offer students a chance to share what they're dealing with, and to develop some skills to handle it. At times, students feel like they're the only ones who are struggling. It may be helpful to know that they're not alone." At the group's first meeting, a vote was held to determine the most important issues at Wilcox, and Ms. Kwan reports that, "The three topics that had the most votes were: difference between stress and anxiety, positive and negative effects of stress, and self-care as a way to promote resilience."
Although the group is only able to meet once a month due to scheduling problems, this does not diminish the main goal of the project, which is to educate students about the trials they face at school, at home, and on the internet. The group also works to teach students how to correctly take care of themselves in response to these troubles.
Another endeavor undertaken by the Wellness Center is slightly more playful and noticeable around campus. As some students have discovered, at the start of the second semester, teachers were given fluffy bears to put in their classrooms.
These stuffed bears, found at the desks of most teachers, are the brainchilds of Mr. Melligan, who inspired the wellness coordinators by having stuffed animals in his classroom. Students have been known to hold the animals during class time for fun or for comfort, and so the wellness center supported an expansion of this method to ease students' minds. Ms. Kwan informs, "Ms. Betty at the Wellness Center contacted Santa Clara County Federal Credit Union, who donated several boxes of bears to Wilcox so every teacher who would like to have a bear in their classrooms can have one."
So far, there have been varying reactions toward the bears. While initially met with confusion, some students have taken to cuddling with and naming each classroom's bear. Junior Marie Obeloer exclaims, "It's a very good idea to help people feel better. I hope nobody feels ashamed to pick up the bear and hug it… I love the bears." There is no doubt that the average student faces stress, especially as the realities of life after high school sink in. However, if support is available for these students in times of need, perhaps that stress can be converted into healthy motivation towards succeeding academically and mentally.