The Sky's the Limit (And a Spacesuit)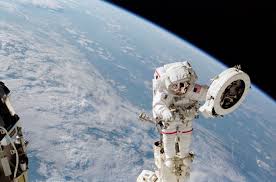 Khushi Shah
April 11, 2019
Not many have had the opportunity to witness the magic of space; out of those who have, most are men. Early in March, NASA announced a new plan to send two women into space for the very first all-female spacewalk. A spacewalk involves an astronaut stepping outside of a spacecraft. This historic spacewalk was set to take place on March 29, 2019. The World Economic Forum reports that since 1998, there have been a total of 213 spacewalks at the International Space Station (ISS), but none had an all-female participant list. The spacewalk was coincidentally planned to take place at the end of Women's History Month; however, what would seem to be a minor setback stopped the plan dead in its tracks.
The U.S. Space Agency planned on sending two astronauts: Anne McClain, who is thirty-nine years old, and Christina Koch, who is forty years old. McClain is an aerospace engineer and senior army aviator who has been on board the ISS since December 2018. After taking part in the all-female spacewalk, it was planned that she would join astronaut Nick Hague for another mission. Koch, on the other hand, has a background in electrical engineering and physics, according to CBS News. She was supposed to be launched into space on March 14 and join McClain at the space station. However, the plan came to a halt when NASA announced that the all-female spacewalk was cancelled on March 25. Koch was ready, but McClain was not. The problem was the size of the space suits. Both women needed to wear a medium-size torso component, but only one was readily available at the space station. As a result of this setback, the mission managers decided to adjust space assignments according to the spacesuit availability at the station. That meant Koch would have to take on the mission with another astronaut. The mission, however, remained unchanged. Koch went with astronaut Nick Hague to complete the task of replacing the massive lithium-ion batteries that helped to power the ISS research laboratory. McClain got to participate in a spacewalk on March 22 as well, just not at the same time as Koch.
Even though the all-female spacewalk did not take place, both women had their shot at completing a task in space. The New York Times states that there will be an all-female spacewalk eventually, but that day is still uncertain. Kenny Todd, a senior space station manager at the Johnson Space Center, says he believes in the power of women. In an interview with CBS, he said, "We're very blessed right now. [An all-female spacewalk] is a great opportunity, it's a great way to highlight some of the things that are going on here, but these two spacewalkers are just solid. Solid, solid astronauts." In addition to these female astronauts, more astronauts are traveling to the space station in order to complete other missions. According to CBS News, in future spacewalks, additional changes will be made in order to keep the space station in good condition. Hopefully, an all-female spacewalk in the future will be an example to all aspiring astronauts that women also have the ability to complete missions together.