Gift-Giving Made Great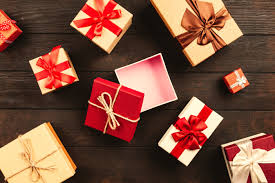 With the holiday season rapidly approaching, not only do seasonal decorations and Santa Claus start appearing, but the ever-present worry of buying the perfect gift for a loved one or friend looms in the distance. Although it can be hard to find the perfect gift for someone that you may know well (or not at all), this gift guide is here to help you find a great gift, whether it be for Christmas, or other holidays. This year especially, as many shops are closed down and the only option is to buy online, going outside the box is a meaningful surprise for those you love. 
In my opinion, the best gift to give anyone is a gift card. Yes, it's a bit bland, and can be expensive, but it's also a blank slate. Virtually every business establishment carries gift cards-from big stores like Target and Walmart to smaller, local food places or shops. With a gift card, you don't have to worry about whether the person you're giving it to will like it or not, because they can take control of what they buy. Since the variety of gift cards varies, it can also be a personalized gift. For example, buying someone a gift card to their favorite coffee shop or nail salon is just as personal as any other type of gift! It shows that you not only care, but you're allowing them to make their own choice about what they want to get with it. 
Another great gift that would appeal to anyone is a weighted blanket. You can buy weighted blankets just about anywhere, and they range from around $50 to $100 on Amazon. Many people think that these blankets can cure anxiety and have relaxing properties. According to Harvard Health, there is no evidence or studies to back up these claims, but thousands of people do use these blankets, as it can serve as a kind of placebo or even just lend a sense of comfort. When buying, most companies recommend getting a blanket that is about 10% of your body weight: for example, a fifteen-pound blanket for someone who weighs 150 pounds. Some even come with heating pads inside, so it can double as a relaxer and a warmer for these cold winter nights.
A classic gift is technology, whether that be a new computer or state of the art phone. For example, airpods, iPhones, new speakers, or even a new television could be a perfect gift to start off the new year. In 2016, iPhones were the top gift in eleven US states, including Texas, Virginia, and Georgia. Although technology gifts are typically expensive, it can be a worthwhile investment for a loved one or family member. This year's latest iPhone can cost over $800, according to Apple data. Shoppers on a budget should probably shy away from these expensive electronics, as they can be a large investment.
In addition, buying a subscription service as a gift is something that many don't consider. For example, Spotify Premium costs money and has many amenities and features that regular Spotify doesn't. Although it costs $9.99 a month, that price pales in comparison to all of the benefits. According to Yasmine Siala, a sophomore at Wilcox, "Spotify premium is really good because it's super convenient, I can download playlists for when I don't have data, and I can play whatever songs I want." There are also no ads when you buy Spotify premium, while with regular Spotify there are ads about every ten minutes, which can get annoying. Other subscription services are Apple Music, or even a subscription to a favorite newspaper or magazine, such as the New York Times or People magazine.  Since most people don't think about subscription services as gifts, they can be a welcome and unique surprise this holiday season. 
Finally, socks are some of the most underrated gifts out there. Especially as you age, socks are an amenity that many are in need of. Obviously, if you're shopping for a child, they probably won't appreciate getting socks for Christmas. But for older people, even teens, socks can be a wonderful gift. First of all, socks are incredibly durable and come in many, many different styles. Fuzzy socks for cold weather, high socks for hiking, thick socks for skiing, regular socks for hanging around the house, and more. There are so many different styles, materials, and colors that giving socks as a gift becomes more than just a quick search- it's easy to find the right sock for someone important in your life. Even novelty socks can spice up someone's presents—a funny phrase or silly image on socks will become a memory that they can cherish forever. 
Overall, there are many great gifts for the people on your list this year—but here are a few more for your ideas! No matter what you end up getting, the holiday season is a time for giving and receiving gifts as well as spending time with the ones you love. Get them a gift that they'll love, and you'll receive the satisfaction of knowing that they are going to enjoy it for hopefully years to come.