Larry Elder Expose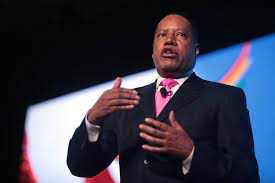 Laurence Allen Elder (born in April 227, 1952) is a Southern California based conservative African American talk show host of the Larry Elder Show. He is also a part time author and attorney. He graduated from Brown University and studied law at The University of Michigan. He appears frequently on FOX News, and he is a loyal supporter of Former President Trump, as he expresses his views on his Twitter.
Elder has also been a part of many scandals, some of which are the allegations of which he was accused of abuse and sexual harassment. In 2011, however, he denied all claims, refusing to admit that he was involved in any wrongdoing. He also came under criticism for his degrading remarks towards women. He claims that "Women know less than men about political issues, economics, and current events". He even mocked women on several occasions which show how he is a modern day chauvinist.
As a conservative commentator with right wing views, he has never been appointed or elected to any public office, nor has he had any experience working for the federal state or local government. That being said, with his lack of experience in this field, he should not have run for this position in the first place. It's like how he's never ridden a bus, but he suddenly wants to drive it.
Had the recall been successful, this would have been one of the most historical political victories, just like the one in 2016 when Donald J. Trump beat Hillary R. Clinton. This year, there were over 45 candidates running to replace the governor, and according to the New York Times, Elder has received about 3,441,226 votes, which is almost half of the votes from those who voted in favor of the recall. Even though Elder did not win the seat for governor, it is not as if nothing has happened. Loads of money went down the drain, and Elder still benefited from the election but in a different way.
As a radio talk show host, the most important quality for him is his popularity. Even though he is already quite famous in the Los Angeles area, due to the recall election, his name recognition has increased significantly and he became a household name throughout the entire state of California, with about 40 million residents, and beyond California as well. With this increasing number of following, his radio show may now be syndicated throughout California and likely to many other states as well. His listener base will grow many times and Larry Elder will likely become a national figure, being a frequent commentator of FOX News and other national conservative media outlets. His next books will probably become best sellers among the conservative base, and Elder will turn out to be very financially successful.