Innovations Through Restrictions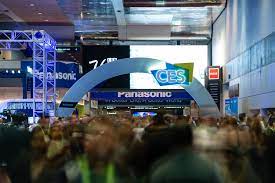 The world's largest tech convention has not closed even though COVID. The CES or the Consumer Electronics Show exhibits inventions and innovations from around the world. It provides a platform for companies and startups to share and advertise their creations. On their website, the CES wrote that over 160 countries are being represented, and that "over 2100 companies have committed to exhibiting in Las Vegas…200 of the Fortune Global 500, 77 of the Interbrand 100, 66 of the top retailers and leading US and global media are already registered and joining us in Las Vegas." In a press release by the Consumer Electronics Show, the convention which occurs annually in Las Vegas, attracted around 45000 people in person, according to VentureBeat. This is 73% less than the number of people who attended in 2020, pre-COVID. Obviously due to COVID restrictions, and the fear of the Omicron variant, many people did not attend, and chose to view the exhibitions virtually. The CES decided to continue its successful virtual exhibitions after the large turnout at last year's virtual convention. 
The Consumer Electronics Show began in June of 1967, in New York City and had exhibited major companies such as Motorola with Lenovo, Panasonic-Matsushita, Sony, Toshiba, Philips, Zenith (now part of LG), Westinghouse, SANYO Fisher (now part of Panasonic), RCA (now a Technicolor brand), Memorex, and more. Today, prominent companies such as Google, Apple, Microsoft, Intel, and Samsung present keynotes at this event. The show originally featured 117 exhibitors and attracted around 17,500 people.
This year, the event lasted from January 5th to January 7th. Due to COVID, the major companies dropped out of the in-person exhibitions and rather decided to stay virtual, which allowed over 135 new companies to join the in-person convention.
Just like every year, this year's convention featured many interesting ideas and innovations.
Mojo Vision returned with an announcement that they are continuing their smart vision contact lenses. They first showed a glimpse of this prototype in CES 2020. According to TechCrunch's interview with Mojo Senior Director of Product Management David Hobbs, "Today's wearable devices can be helpful to athletes, but they can also distract them from the focus of the activity…without disrupting someone's focus and flow during training." Every year, they have been getting closer to this goal, but Mojo has apparently planned "several strategic partnerships" with brands such as Adidas Running, Trailforks, Wearable X, Slopes, and 18Birdies. This will help them test out their lens which will hopefully replace watches so that they can rather see it when they are running through their contacts.
Another innovation that caught my eye was Sabre's digital pepper spray. Sabre has created gadgets designed for personal safety for years, and many people carry their pepper spray. Their new Smart Pepper Spray would connect their spray to contacts in order to ensure that people know where you are. With one spray, a signal or message would be sent to your selected contacts so that they know where you are and would be able to assist you or check up on you. In order to use it, you would have to remember to charge it. With a $5 subscription per month, you can also alert local authorities. Although it is typically $80, it is currently selling for $54 on Amazon. Replacement canisters are $10. Each comes with a practice spray so that people can practice without using the actual spray.
The CES has so many innovations one would not be able to cover all of them. These are two that caught my eye during the convention, and I hope that all of these innovations are successful.