Transgender Penn Swimmer: Lia Thomas
Lia Catherine Thomas is a transgender woman currently attending the University of Pennsylvania, and competing in women's university swimming. According to Independent, Thomas grabbed first place in the National Collegiate Athletic Association's (NCAA) first division swimming championship, which also earned her America's top tier trophy for university sports. Since her big win, controversies have been stirred up regarding the fairness of having transgender women competing in women's university sports.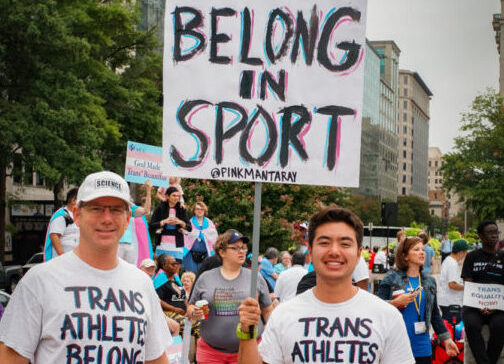 Thomas first came out to her family in 2018, and then began using her new name Lia Catherine Thomas on New Year's Day of 2020, which she stated felt like a rebirth of sorts. Sports Illustrated stated that Thomas revealed a disclosure shared by many transgender individuals, announcing that she was, "For the first time in my life, feeling fully connected to my name and who I am and living who I am." Thomas began hormone replacement therapy in May of 2019, which the National Collegiate Athletic Association's required transgender athletes to have for at least one year in order to be eligible to complete against other women in the championship events. For the rest of her junior year, before she had faced one year of HRT, Lia Thomas competed in men's swimming while wearing a women's swimsuit, and adjusting to the changes in her swim times and adjusted body. With COVID-19 disrupting the 2020-2021 swim season, Thomas took the season that would have ended up being in her senior year and last season at Penn in order to retain her final year of eligibility, which she hoped would involve swimming in the women's category. 
While Lia Thomas was competing in the women's category and breaking many records, some parents of Penn swimmers were not too thrilled. According to SI, on December 5th, the parents sent a letter to the NCAA, requesting that Thomas be ruled ineligible for women's swim competitions. Their reasoning was shared among many who do not agree with allowing transgender women to compete in the women's sports. A study published in December of 2020 by the British Journal of Sports Medicine found that even after one year of hormone replacement therapy, transgender women still had a physical advantage over cisgender women when it came to sports. While reviewing medical records and fitness tests of transgender men and women in the Air Force, Dr. Timothy Roberts, director of the adolescent medicine training program at Children's Mercy Hospital, co- author and physician Col. Joshua Smalley, and co-author Dr. Dale Ahrendt found that transgender individuals were able to complete greater physical feats than cisgender women even after two years of HRT. According to NBC News, lead author Dr. Timothy Roberts states that "For the Olympic level, the elite level, I'd say probably two years is more realistic than one year," At the time Thomas began practice again with Penn swimmers in the summer of 2021, she had been on hormone replacement therapy for slightly over two years. 
Lia Thomas' presence in women's swimming brings up much debate over whether or not transgender women should be permitted to compete alongside cisgender women in university's women's athletics. The NCAA has publicly announced their support for transgender athletes, and that they strive to uphold fairness in college sports.