Sweet, Romantic Love Letter…Or Not?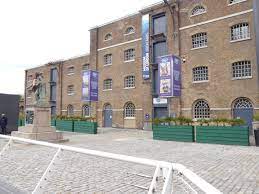 Grand gestures of love have been greatly appreciated and treasured by significant others everywhere– whether it was emperor Shah Jahan building the Taj Mahal for his wife, or King Edward VII abdicating his position as king in order to marry his true love. All of these have set unattainable standards for regular citizens, although many of them have questionable execution and reasoning.
Keeping up with the theme of magnificent periodical love, The Museum of London Docklands recently introduced their new exhibit of Executions. While its contents may seem predictable, one specific slideshow particularly caught reporters' interests when examining the preview. The slide featured a blanket embroidered with a special message reading "The sheet OFF MY dear dear Lord's Bed in the wretched Tower of London February 1716 x Ann C of Darwent=Waters"- although this may seem like a perfectly normal, event sweet, thing to do for your husband, experts have revealed the actual source of the thread. Far from regular yarn you can find at your local arts and crafts store, the material was actually pieces of hair strands sewn together by the artist herself, Anna Maria Radclyffe.
Just by the oddness of the gesture itself, it's clear that the history between Anna Maria Radclyffe and her husband runs deep and true. After all, their involvement in high-ranking aristocratic Britain ensures that their demise must have been dramatic.
The story begins during the first Jacobite rebellion, when Charles Edward Stuart attempted to usurp the throne of James Francis Edward Stuart. Anna Radclyffe's husband, James Radclyffe, was heavily involved in the fight, being one of the main warriors in support of the usurpation. When the original king found out about this unseemly betrayal by one of his closest aristocratic comrades, he immediately called for the execution of Radclyffe at the Tower of London.
Anna Maria herself was devastated at the prospect of her husband's demise, especially for the sake of a cause she supported herself. This led to the eventual construction of the embroidered blanket, which has famously been honored at the London Museum.
Experts believe that aside from a romantic gesture, the embroidered blanket can be perceived as a testament to Catholic faith and martyrdom. Fighting for one's beliefs, and honorably as well, is seen as an important part of the religion- something proven by Anna Maria's dedication. The odd, but loving, memorabilia was even replicated in different ways by other widowed spouses: dated 1826, thief George Wright wrote to Anna Lee on a token that "In my dismal cell I lie/In sorrow grief and woe,/For my time it seems so long,/My doom I wish to know." From the way that romantic gestures have progressed throughout history, it's clear that the Radclyffe widow was not alone in her artistic pursuits.
The bedsheet, which regular viewers of the Museum of London have long been awaiting, is set to release in October of 2022. After a long journey of passing through the hands of activists and supporters, its final destination is sure to glorify its first public reveal.