A Villain's Game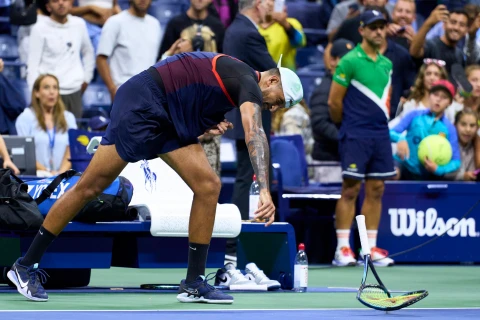 Tennis is regarded as a gentleman's sport, characterized by quiet crowds, polite players, and heavy fines levied on misbehaving individuals. One particularly fiery yet talented player has continuously thrown the esteemed book of rules to the wayside, racking up hundreds of thousands of dollars in fines and earning the unofficial title of "Most Polarized Player". Nick Kyrgios, a 27-year-old hailing from Canberra, is a strikingly talented player capable of replicating moves exactly and reads the court like it's his own personal playbook. Despite his skill, his personal actions have resulted in almost-continuous controversies, as he verbally and physically continues to berate fans, other players, journalists, reporters and the referees. 
In past years, Kyrgios has been in too many scandals to actually recount, but the most major events are compiled below. He's racked up more than 500,000 euros worth of fines.  In 2015, Kyrgios, as a 20-year old freshly experiencing Wimbledon, called his opponent "dirty scum" in first round, smashed his racket and got into a verbal altercation with a spectator in round three, and was accused of "tanking" fourth round, at which time he was booed off the court. "Tanking" is an accusation that followed Kyrgios around for the rest of his career, as he was accused of throwing matches and not playing at his full potential. He even admitted to "probably" tanking over eight tournaments throughout his prolific career. Later that year, he was caught on microphone talking trash about Stan Wawrinka, saying that "Kokkinakis [another Aussie tennis player] banged your girlfriend. Sorry to tell you that, mate," and also insinuating that Wawrinka "banged 18-year-olds". 
In 2017, Kyrgios smashed two rackets in a second-round match and then asked a spectator for beer, saying "get me a beer now. Honest to God, get me one now," declaring that he was "not joking" when asked if he was playing a prank. In 2018, he was fined 15,000 euros for stimulating a sex act with his water bottle, ending by spraying water over his bench and towel. When asked for comment, he stated that "My girlfriend will kill me if I don't apologize and it was unacceptable. But Denis Shapovalov gets fined $5k for hitting an umpire in the eye and sending him to hospital. I get fined $15k for playing with a water bottle."
 In 2019, his actions reached a peak- third set tension and swearing at a fan got him a game penalty. After receiving the penalty, he kicked his bottle, hurled a chair onto the court, and smashed his racket on the ground. Unsurprisingly, he was disqualified from the Italian Open and fined 20k euros. Kyrgios was also fined at Wimbledon, a yearly grass tournament in which the players are only allowed to wear white, because he wore red Jordans and a red baseball hat, interfering with the dress code. When asked, Kyrgios said that "I do what I want. I just like wearing my Jordans." He also had an altercation with a ball boy in which he threw his racket after a crushing defeat, almost hitting the kid and sparking controversy online. In March, Kyrgios lost in a fourth-round defeat, slapped with both point and game penalties after smashing his racket into a chair . He yelled, "Get rid of every single staff member and start over. I'll run the sport. I could do a hundred times better job." At Wimbledon in 2022, the Aussie also called a female line judge a 'snitch' and claimed some of the officials were too old to do their jobs, after spitting at a spectator in the stands and defending his actions. 
Unfortunately, these are only some of the incidents that Kyrgios has been involved in. The amount of money he spends on getting new rackets after smashing every one of his other rackets must be tremendous, and his continued use of verbal vitriol directed at everyone in the immediate vicinity makes tennis purists advocate for his permanent removal. Despite his negative behavior, many believe that "every sport needs a villain", and Kyrgios is portrayed negatively in the media because of this perception, causing a cycle in which he is villainized no matter what he does or says. This intense pressure has led to numerous mental health issues, including depression and anxiety. In the day and age of crucifying people online for missteps, we must consider the impact that our words and actions have on others.