The Vampire Diaries Cast – Where Are They Now?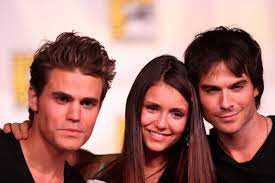 The Vampire Diaries is an iconic show loved by many, and to this day, still is being watched and rewatched. Premiering in 2009, it became one of the most memorable and loved vampire-themed series to date. It ran for a total of eight seasons and took place in the fictional town of Mystic Falls, Virginia, home to mythical creatures like werewolves, witches, and vampires. The show centers around Elena Gilbert, played by the talented actress Nina Dobrev, and her complex and intricate love triangle between the two Salvatore brothers Stefan, played by Paul Wesley, and Damon, played by Ian Somerhalder. The cast also includes Candice Accola who played Caroline, a teenage cheerleader turned into a vampire, and Kat Graham, who played Bonnie Bennett, a powerful witch. 
So what is the infamous cast doing today? Nina Dobrev left the show in 2015 after six seasons but returned for the series finale in 2017. Since then, Dobrev has appeared in many films including Flatliners, Dog Days, Run This Town,  and Lucky Day, and played Clem on the short-lived series Fam. In the upcoming movie Sick Girl, the Bulgarian actress will debut as a producer. Dobrev then starred in Love Hard, Netflix's holiday movie which premiered in November of 2021. 
As for the Salvatore brothers, Ian Somerhalder converted from a vampire to a vampire research physician when he went from playing Damon on The Vampire Diaries to portraying Luther Swann on V-Wars, which the actor also produced. Somerhalder then appeared on Good Mythical Morning and scored a role in the movie, Time Framed. He then teamed up with his former coworker Paul Wesley, who played his onscreen brother, to create Brother's Bond Bourbon in 2020. Somerhalder married the actress Nikki Reed in 2015 and just two years later, welcomed their first child, daughter Bodhi. The pair also announced in January of 2023 that Reed is pregnant with baby number two. 
The other Salvatore brother has also been booked and busy since the end of the notorious series. Paul Wesley followed up his role as Stefan Salvatore by narrating the short film Aliens and began playing Tucker Reed on the Tell Me a Story series. Wesley can also be considered to be a producer and director. Some of his work includes the short films Ashmina and Anna and directing episodes of Legacies and Batwoman. The actor joined Star Trek: Strange Worlds as Captain Kirk in 2022. 
The onscreen besties Caroline Forbes, played by Candice Accola and Bonnie Bennett, played by Kat Graham have also been thriving since the end of the series. Accola reprised her role as Caroline in TVD's spinoff, The Originals and then appeared in After We Collided. The actress went on to launch a podcast called "Directionally Challenged" with her former Vampire Diaries co-star Kayla Ewell. As for Graham, she has appeared in Love in the Villa, All Eyes on Me, The Holiday Calendar, Fashionably Yours and Cut Throat City. The actress has released two solo albums and has continued to release new music, including the single "Swim".
All in all, the cast of The Vampire Diaries has been hard at work since departing in 2017 and is flourishing in not only their services but also personal relationships. We hope to see more films and series in the future from the cast and to see each member thriving in one way or another.