Ring Culture in the NBA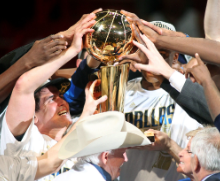 "Ring Culture" in the NBA is the attitude that in order for one's career to be deemed a triumph, one must win a championship ring. One can argue that ring culture was not inspired by players' ambitions, but by the league's critics. To some analysts, players without a championship title will never have a legacy comparable to that of Michael Jordan, Kobe Bryant, or LeBron James.
In response, players feel that to gain recognition and respect from the media, they must win a ring. Some players feel this pressure more than most and join assertive teams that are already favored to win a championship. This concept of "ring-chasing" has been scolded by many players, fans, and analysts for decades. "It's not fair to join a team with various superstars. They shouldn't receive as much respect as teams that aren't as powerful if they win the championship, " voices Devante Buck, an avid NBA fan. 
A familiar name that falls under the ring-chaser title is 13-time All-Star Kevin Durant. Durant was drafted second overall in the 2007 NBA Draft by the Oklahoma City Thunder. In the 2015-16 season, the Thunder faced off against the Golden State Warriors in the Western Conference Finals, where they were eliminated in game 7. After nine seasons with OKC, KD left and joined the Warriors, who had just thrown his chances of winning a championship with his former team out the window. Durant won two consecutive championships with the team. After the Warriors failed to win the finals in the 2018-19 season, KD left to sign with the Brooklyn Nets alongside superstar Kyrie Irving. The duo was joined by guard James Harden in 2021, becoming Durant's second "superteam". The team failed to make it past the second round in the 2020-21 and 2021-22 postseasons, and Durant requested a trade to the Phoenix Suns in the 2022-23 season. KD joined superstars Devin Booker and Chris Paul to form his third superteam. 
Various players in NBA history have proved that one can have a triumphant career without winning a championship. Of the 178 players in the Naismith Memorial Basketball Hall of Fame, 70 players have not won a ring. 
The "president" of the NBA's ringless club is Charles Barkley. Barkley, who has earned 11 All-Star selections, 11 All-NBA teams, one Most Valuable Player award, and a spot on the NBA's top 75 team has proved to be one of the most prominent players in NBA history. There is just one accolade missing from his résumé that many other members of the NBA 75 hold: a championship title. 
Barkley continues to be present in the basketball world as one of the hosts of TNT"s post-game show, Inside the NBA, alongside former NBA players Shaquille O'Neal and Kenny Smith. His "ringless" title sets him apart from the two, who have won four and two titles, respectively.  Barkley is often excluded from analysts' all-time rankings because of the championship titles missing from his résumé. "Every great player is judged on if he can win a title," six-time champion Scottie Pippen expressed. "You see what they say about [Charles] Barkley, and you see what they say about players who have won titles. It definitely sort of writes your career." Regardless, Barkley doesn't let the absence of a championship title alter his confidence in his career. Standing at 6 feet 5 inches, below the average height for a power forward, many analysts believed that he would not dominate at his size. However, throughout his career, he proved his doubters wrong. "I gave it all I had, " stated Barkley on The Pivot Podcast. "And I sleep well at night about what I accomplished."
Aside from Barkley, many other well-known players in NBA history, such as Allen Iverson, Carmelo Anthony, and Damian Lillard, have proven that one should not need to win a championship in order to be considered an influential player.
Winning championships has become the most valuable aspect of the sport of basketball. Being a champion is considered the pinnacle of success by many. Nevertheless, the lack of a championship title should not diminish the legacy of a player with other career accomplishments.