Artist Spotlight: Felix Gyugyi and Celeste Vargas
Clarissa Guglielmelli, Staff Writer
April 19, 2017
Hard work and dedication defi nitely pay off when it comes to FCCLA competitors Felix Gyugyi and Celeste Vargas. Whether a part of FCCLA or the CHAMPS program at Wilcox, both Vargas and Gyugyi spend countless hours both preparing and practicing for upcoming FCCLA competitions. So, whether it is blowing away the competition in the senior division of decorated wedding cakes for Vargas, or killing it in the senior division of culinary arts for Gyugyi, these creative chefs have both the passion and skill to almost make what they do almost seem easy.
Cooking has always been something Gyugi has enjoyed. During competition season for FCCLA, Gyugyi is a part of a three-person team with junior Christian Burgoz and sophomore Cole Bay. These high school chefs work to create culinary masterpieces that both look good and taste good. While spending around 8 hours a week practicing for competitions with fellow FCCLA members, Gyugyi also spends his free time perfecting his techniques at home. This hard work is definitely not in vain, as Gyugyi and fellow competitors placed first in culinary arts in their Spring meeting in February. To Gyugyi, the best part about being a chef is working with a team to create extraordinary meals from ordinary ingredients. "To get that perfect flavor and texture is like a puzzle," Gyugyi explains. "You have to keep adding stuff and tweaking the spices and ingredients until everything is perfect." Despite sometimes finding difficulty in leading himself and other chefs, Gyugyi explains that when he and his team succeed at creating a culinary masterpiece he feels both proud and extremely happy. So, despite facing some ups and downs as a FCCLA competitor, the feeling of pride and joy at the end of a competition encourages Gyugyi to never give up.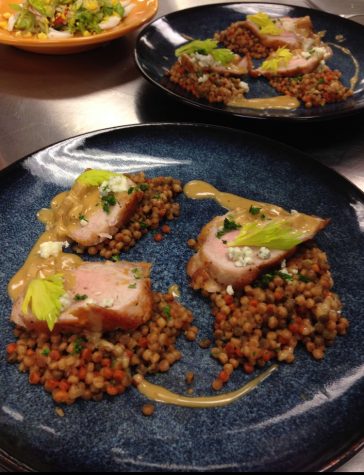 As for Vargas, who has been a part of FCCLA and the CHAMPS program for three years, being a pastry chef is something she wants to pursue as a career when she is older. After watching former wedding cake decorator Keibeth compete in the previous years in FCCLA, Vargas thought it looked interesting, and gave it a shot. Vargas fell in love with the art, and now dreams to attend the Culinary Institute of America, where she plans to become a pastry chef. Vargas, who placed third in senior division of Culinary Display Decorated Wedding Cakes, states that even though practicing and competing can be stressful at first, once she gets the hang of a new skill, it can be a fun experiences as well as a way to express her inventiveness. "I explore my creativity through wedding cake decorating by letting my imagination come to life in a way," Vargas explains. "I get to make [the cake] my own." Vargas also reveals that when facing an obstacle, she is always encouraged by her mentor Chef Manzon. She explains that Chef Manzon motivates her, and once she has a vision of a cake in her head, she is motivated to not give up until she gets there.
Both Vargas and Gyugyi have worked very hard to get to where they are. "It takes a lot of time and dedication, but if you are thinking about doing it, go for it," Vargas advices to future FCCLA competitors, and Gyugyi agrees. While these two competitors might make what they do look easy, it has taken them lots of hard work, and most of all, a love and passion for what they do.