Famous Artist Spotlight : Fransisco Goya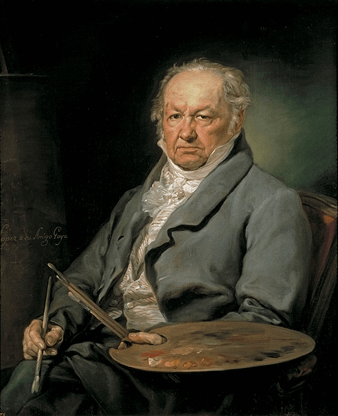 When people think of famous artists, their minds immediately go to Leonardo Da Vinci or Pablo Picasso, but the one most people are forgetting might be Francisco Goya, one of the most influential artists from the 1800s. 
   Francisco Goya was a Spanish artist who mainly painted in romantic and rococo styles. He was born in the city of Fuendetodos, a northern village in Spain, in 1746. Later, his family moved to Saragossa, Spain, where his father worked as a glider. At age fourteen, he became an apprentice to the painter Jose Luzan Martinez. After his apprenticeship, he moved to Madrid to learn under Anton Raphael Mengs, who was known for the rococo style. During this period, Goya also met and married Josefa Bayeuj. Though their marriage was strong, it was filled with difficulties in conceiving and a vicious circle of pregnancies and miscarriages. After 6 failed miscarriages, they managed to raise a child who lived to adulthood. 
As Goya endured to move in circles of royal patronage, he obtained greater commissions from the nobility. Between 1785 and 1788, he painted executives and their families from the bank of San Carlos, including the count number of Altamira. The Condesa de Altamira and Her Daughter indicate his talent at shooting the sensitivity of the sitters and his mastery of a painterly technique, which portrays in broad brushstrokes the brilliance of nice garb and different accouterments of wealth. Manuel Osorio Manrique de Zuñiga, a portrait of the Altamiras'son, indicates Goya's hobby in floor styles and the play of light; the caged birds symbolize the innocence of kids. In a later infant's portrait of amazing emotional evocation, the symbolism alludes to Spain's army war with France.
  As Goya continued to work for the aristocracy, he found more favor and became a court painter at the age of 40. During Goya's time as a court painter, he worked for multiple kings. These people included King Charles III and King Charles IV, followed by Napoleon when he conquered Spain, and lastly, Ferdinand VII ("the felon king"). Charles IV appointed Goya as the first court painter. Some of his most famous artworks include ''the third of May 1808'', "Saturn devouring his son'' and "the witches sabbath''.   
At age 46, he caught a severe illness that had not been discovered yet, the symptoms included tinnitus, right-sided paralysis, weakness, and loss of vision. Although he had recovered, the unexplained illness had left him deaf and with sight loss for life. This shift had an unsurprisingly effect on his career, as his paintings became more gloomy and depressing.
Having no royal commissions in the course of the tumultuous monarchy of Ferdinand VII, Goya became isolated from the political and high society lifestyle of Madrid. Between 1820 and 1823, he finished a series of private works in a fresco at his small country house, Quinta del Sordo (the Deaf man's house). The paintings, which are now known as the Black Painting had disturbing and terrifying scenes, with dark underlying tones. The Black Paintings were the last major set of paintings of Goya's career, as he soon retired to Bordeaux in 1824 and lived there until his death in 1828.
Although Goya's paintings came from a painful origin, he is regarded as one of Spain's best artists that shall be remembered. He has inspired many people to pursue an artistic career, as well as admire his work.