Famous Artist Spotlight: Mitski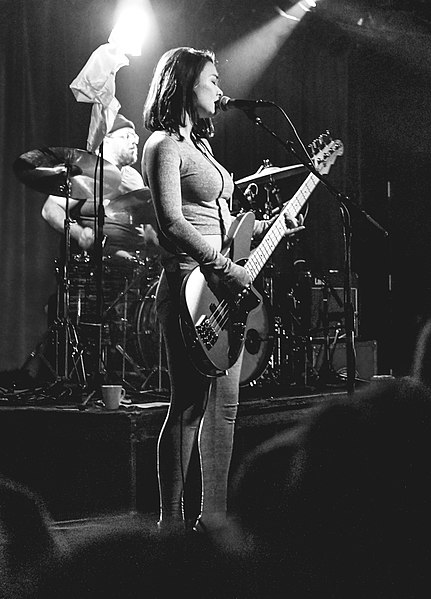 When you hear Mitski, you probably think about the popular Alternative and Indie Rock artist Mitski. Mitski, also known as Mitsuki Miyawaki, was born on September 27, 1990 in Japan to a Japanese mother and an American father. A Japanese-American singer and songwriter, Mitski is best known for her two albums "Be The Cowboy" and "Bury Me At Makeout Creek," as well as her latest album "Laurel Hell" which was released earlier this year on February 4, 2022.
Throughout Mitski's childhood, she was constantly moving around due to her father's job. This led her to move to thirteen different counties with Malaysia, China, and the Czech Republic beginning the list. According to TechRock, before moving to her current living location in the United States, Mitski attended and graduated high school in Turkey. Following her move to the states, Mitski attended Hunter College in New York to study the production of film, later deciding to switch schools to SUNY Purchase to study Music Composition. 
During her years at SUNY Purchase, Mitski self-published her very first albums, "Lush" (2012) and "Retired from Sad, New Career In Business" (2013). She used the help of school resources to produce "Lush," namely working with the s
chool's orchestra, inclusive of more than sixty students. Right after the release of "Retired From Sad, New Career In Business," Mitski graduated from SUNY Purchase and went on to pursue mus
ic. The following year, Mitski joined a rock band in Brooklyn, New York named "Voice Coils," featuring three other members: Sam Garrett, Tony Gedrich, and Cameron Wisch.
During Mitski's time in Voice Coil, she produced and released her 3rd album "Bury Me At Makeout Creek" in 2014 with the help of the recording label Double Double Wham. This album was a product of Mitski's emotions after her non-stop working, in addition to the last two albums she published. Now, "Bury Me At Makeout Creek" is one of Mitski's best and well accredited albums amongst her creations. In detail, the album expressed Mitski's exhaustion and represented youth and heartbreak, resonating with many of her young listeners and even receiving praise from The Rolling Stone. Over the next year, "Voice Coil" disbanded in 2015, ultimately leaving Mitski to focus on her solo career. 
Flash forward two years, Mitski signed to Dead Oceans and was touring throughout North America and the UK. Mitski performed at popular music festivals such as Coachella, Panorama, Boston Calling, and Primavera Sound. The next year, Mitski released her last final album
 before her two year long break, "Be The Cowboy," a way for Mitski to remove her "sad girl" personality that was created in her previous albums. In September of 2019, she announced that she was going to be taking a long break and this resulted in many fans worrying about her quitting music. She resolved this misunderstanding by releasing a statement on twitter: "Y'all, I'm not quitting music! Me? Quit music?? I've been on non-stop tour for over 5 years, I haven't had a place to live during this time, & I sense that if I don't step away soon, my self-worth/identity will start depending too much on staying in the game, in the constant churn." 
Additionally, Mitski also deleted her social media accounts during this time and collaborated with the artist Allie X, as well helped with many soundtracks for different movies such as making a song titled "Cop Car" for the movie The Turning. In good hope, in 2021, she announced she was coming back with her new album "Laurel Hell" and is now back on tour today!